OM ANDERS FRISK
Utbildare
Jag utbildar inom främst business, agila beteenden samt förändringsledning.
Föreläsare
Vill ni veta mer om hur ni skall tänka och få tips om agila processer?
Då föreläser jag gärna för er om agila grunderna i praktiken.
Vill ni veta mer vikten av att förändringslednings arbetet?
Då har jag föreläsningen " We either change or we don't".
Utbildningarna och föreläsningarna hämtar inspiration från erfarenheter och har ett lärande syfte för att skapa förändring i er organisation.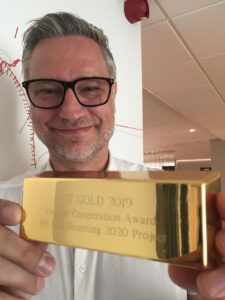 Nomineringen och vinnare av IT Gold 2019
"In the BS I&O Sourcing 2020 Project, H&M and TCS have focused on creating success through partnership.
A partnership built on H&M's values to create a sustainable change. The collaboration with TCS has shown that the heart and the business focus can cooperate! Despite the winds of change, the satisfied employee index have stood up while H&M employees have demonstrated great loyalty and professionalism. TCS has shown and adapt great understanding of what the soft parts mean for H&M and our culture.
The result from this project will give us a faster time to market and more time for our development to create value to business."